Do You Know
Our Food

The greatest thing about our classic Italian food is that it appeals to all ages. No need to whip up something extra for those little ones!
Our Catered
Dishes
Baked Lasagna, Rigatoni & Ziti
Stuffed Cabbage & Pork Chops
Stuffed, Baked & Fried Chicken
Steaks, Burgers & Roast Beef
Pizza, Salads & Garlic Bread
Fried Zucchini & Onion Rings
Strawberry Shortcake
Classic Italian Cookies
Infamous Gob Cake and More!
PDF Catering Menu
Let Us Cook
for You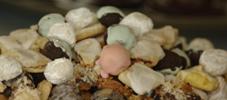 We offer a wide variety of choices and combonations to make it easy for you to satiate even the most finicky of guests. We make it easy for you!